When you're looking for portable toilets in Savannah, you can always rely on us at Degler Waste Services.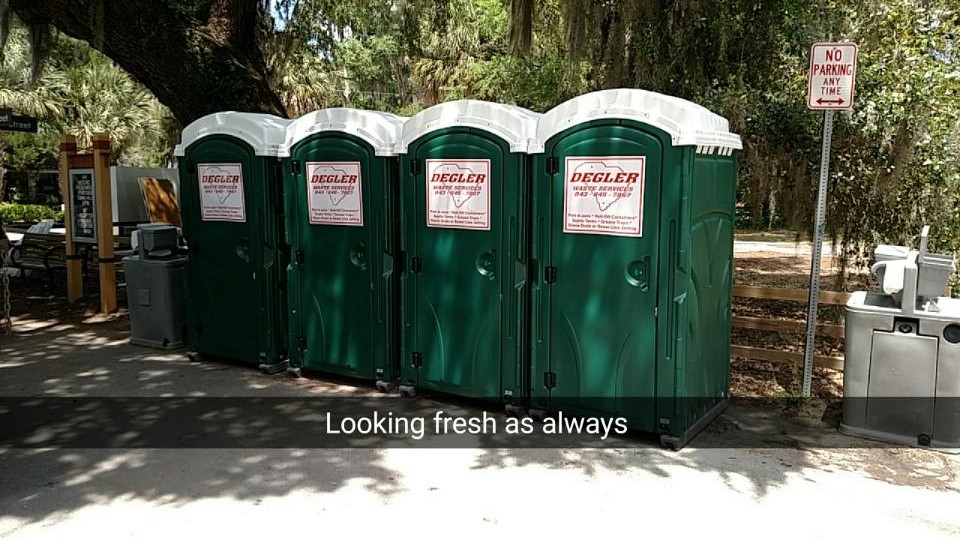 There are a number of reasons why you may be looking to rent portable toilets. Perhaps you're planning a road race for runners or bicyclists at an outdoor space that doesn't have enough restrooms. You might be working on a construction site and need facilities for the workers on the job. If you're an event planner, it's important to have a company you trust to handle the delivery, setup, and tear-down of portable toilets. When you're looking for portable toilets in Savannah, Georgia, you can always rely on us at Degler Waste Services.
Portable toilets aren't just for convenience, although that is certainly an important reason you might order them for your event or job site. They also help keep things sanitary when nature calls. Portable toilets provide a safe, private place for users, and also safe storage for waste until an event or jobsite no longer needs them installed. Then portable toilets can easily be collected and removed as needed.
Portable toilets are ideal for occasions such as:
Home building and renovations
Landscaping projects
Commercial/industrial construction
Outdoor events and concerts
Camping and cabin sites
Weddings and outdoor gatherings
At Degler Waste Services, we handle every aspect of the rental process of portable toilets for your business or event in Savannah, Georgia. It's as easy as calling to schedule a date and time, and then letting our team take care of the rest. We will arrange to bring the number of portable toilets you require directly to your location, set them up in a convenient location, and then come back to pick up the toilets after your event is over or your construction job is complete. We can even work with you to provide handicapped-accessible portable toilets to meet the needs of your guests and visitors. Our team members also take care of emptying the portable toilets and sanitizing them, making it much easier on you. If you aren't sure whether portable toilets are something you need, or if you have questions about where to place your portable toilets, our team at Degler Waste Services will happily provide the answers you need to make an informed decision about your portable toilet rental.
The other thing that sets us apart at Degler Waste Services is that we don't stop with simple delivery and pick-up. Customer service is at the core of our business, and we want to make it as easy as possible to maintain a safe and sanitary temporary location for your portable toilets. Something that sets us apart from other waste service companies in the Savannah area is we will also bring handwashing stations with running water, soap, and paper towels, so you don't have to worry about having hand sanitizer or trying to find a sink when using portable toilets at your site.
At Degler Waste Services, our goal is to go above and beyond when it comes to portable toilets, so we exceed your expectations. Contact us today to reserve portable toilets for your next event.
---
At Degler Waste Services, we offer portable toilets for rent in Ridgeland, Wellford, Lyman, Spartanburg, Inman, Tryon, Landrum, Greer, Taylors, Greenville, Mauldin, Simpsonville, Travelers Rest, Pumpkintown, Lady's Island, Bluffton, Hilton Head Island, Hardeeville, Beaufort, and Walterboro, South Carolina, as well as Savannah, Georgia.