Our portable toilets are kept in top condition and delivered to your location in a fresh, clean state.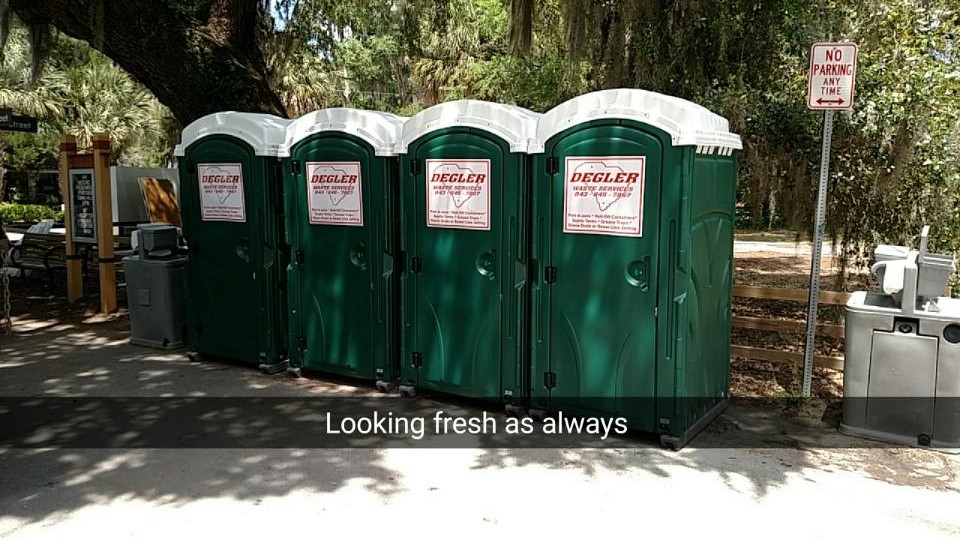 If you have had an unpleasant experience with portable toilets in the past, you might not want to consider them at a time when they may be the best solution. Here at Degler Waste Services, we want you to know that it doesn't have to be a squeamish, disagreeable situation to have portable toilets on hand during an event, construction project, or other situation. Our portable toilets are kept in top condition and delivered to your location in a fresh, clean state, and we take care of emptying them promptly.
We recommend combining our portable toilets with our handwashing stations. These stations provide paper towels, soap, and water, so hygiene can be assured without depending on hand sanitizer products.
There are a vast number of situations in which portable toilets can be the ideal solution. They are most commonly used on construction sites where traditional bathrooms are not available. This can include new construction or even a situation in which a home's bathrooms are being renovated and both the homeowner and the crew need facilities. Another common use for portable toilets is events and gatherings. Whether you are managing a large community event or having more people come to a gathering at your home than your bathrooms can accommodate, you'll find that our portable toilets keep your guests content.
If you would like to know more about our portable toilets and handwashing stations for your Hardeeville, South Carolina jobsite or event, don't hesitate to contact us. We've been a trusted source for sewage-related solutions since 1975 and owe our longevity to our commitment to customer satisfaction. Call today to see for yourself why we're the preferred waste services contractor in the area.
---
At Degler Waste Services, we offer portable toilets for rent in Ridgeland, Wellford, Lyman, Spartanburg, Inman, Tryon, Landrum, Greer, Taylors, Greenville, Mauldin, Simpsonville, Travelers Rest, Pumpkintown, Lady's Island, Bluffton, Hilton Head Island, Hardeeville, Beaufort, Port Royal, Laurel Bay, and Walterboro, South Carolina, as well as Savannah, Georgetown, Wilmington Island, and Garden City, Georgia.