We opened our treatment plant in 2007 to handle waste we collect and for other area waste disposal purposes.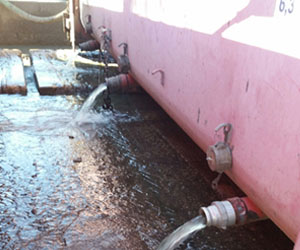 Most people don't think much about what happens to the waste after a septic tank pumping company or grease trap cleaning service has removed the debris from a property. The answer is that it is taken to a treatment plant for processing so that the cleaned materials can be returned to the environment. Here at Degler Waste Services, we use our own treatment plant for this purpose as well as provide a place for other companies to dispose of waste they have collected.
You do not pay an additional fee for processing your waste at our treatment plant if we have collected the waste. Others pay a modest fee of $100 per 1,000 gallons of grease trap waste, $75 per 100 gallons of septic waste, or $50 per 100 gallons of portable toilet waste. We are able to keep our prices reasonable because our treatment plant is incredibly efficient and processes a batch of waste in less than an hour. The system neutralizes the waste with lime as it sits in a holding tank and is then processed using polymer. The result is that solids and liquids are separated so they can each be processed appropriately.
We first opened our treatment plant in 2007 after having been in the waste removal service industry since 1965. We are proud to offer this service for the Beaufort, South Carolina area as part of our commitment to being the full-service waste disposal company you can trust for reliability and the best solution for your needs. Contact us today with any questions you may have or to arrange disposing waste at our treatment plant either for a single disposal or on an ongoing basis.
---
At Degler Waste Services, our treatment plant is available to accept waste from Ridgeland, Beaufort, Ladys Island, Bluffton, Hilton Head Island, Hardeeville, Walterboro, Savannah and Statesboro Georgia, Wellford, Lyman, Spartanburg, Inman, Tryon, Landrum, Greer, Taylors, Greenville, Mauldin, Simpsonville, Travelers Rest, Pumpkintown.