All bathrooms are known for their ability to get messy incredibly quickly, but this seems to be even truer of portable toilets. If you are renting portable toilets for an event, worksite, or something else, you should know that they are actually much cleaner than most people realize and can be easy to keep clean.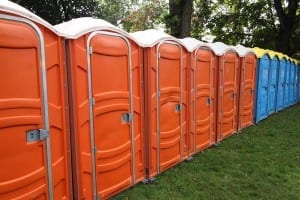 Basic Maintenance- When you are renting portable toilets, you want to take the time to visit them every once in a while to ensure they are clean. Just like you would with a permanent toilet, set up a schedule to ensure the floors are dry, there aren't unsanitary messes, the toilet paper is refilled, and the toilet is working properly. You should also check other nearby amenities, like portable sinks. To make this easier, consider having a bathroom attendant if you have enough portable toilets to make it worth it.
Disinfectants- To thoroughly clean portable toilets, you will separate the toilet itself into parts by lifting off the top after removing clips. You can add a chemical disinfectant to the waste reservoir and wash the other area. Depending on the length of the rental and the type of deal you have agreed upon, the rental company may take care of this for you or just do it at the beginning and end of your rental period.
Emptying the Toilet- At some point, the waste reservoir in portable toilets will begin to fill up. This is when you need to empty it or have someone do it. Because this requires specific sanitation gear and the proper disposal technique, your rental company will typically take care of it for you. It may even schedule times to come and empty the toilets when you initially order the rentals.