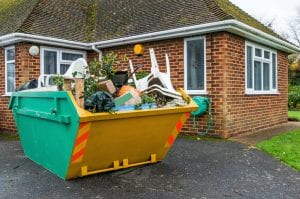 We've all seen it driving by a home or business that's under construction – the yard is littered with debris and waste materials that will eventually need to be hauled away. Unfortunately, they didn't plan ahead for a construction debris container, and instead just made a messy pile in the driveway or parking lot.
At Degler Waste Services, we believe that having construction debris containers scheduled for your building and remodeling projects can make a big difference in the cleanup. Here are three times you should call on us for container delivery to your home or business:
New Construction – Even though new construction involves building something from the ground up, there can still be a lot of materials that need to be disposed of properly. Having the right number and size of construction debris containers makes it easy to manage waste at a home or business construction site.
Home or Business Remodeling – Whether it's the sizing and roofing or an interior remodeling project, the last thing you want to do is throw everything out in the yard only to have to pick it up and haul it away again. Stationing a construction debris container conveniently outside means you can simply haul away the debris when your work is done.
Landscaping Work – Another great opportunity to use construction debris containers is with major landscaping projects. It's easy to contain any yard waste and dispose of it properly with the availability of the proper container.
You can always rely on us at Degler Waste Services for the solutions you need with waste containers in your area. Contact us today to discuss your project and to schedule delivery of construction debris containers to your site.