Roll-off containers are typically used for large home renovation or building projects. They are the most convenient way to dispose of large materials. They are delivered on a large truck and "rolled off" the back of the truck, which is where they get their name. They are open containers that get filled with trash, bulky items to discard, and debris from large projects. Once they are filled, they have loaded onto a truck again and driven to a dumping location.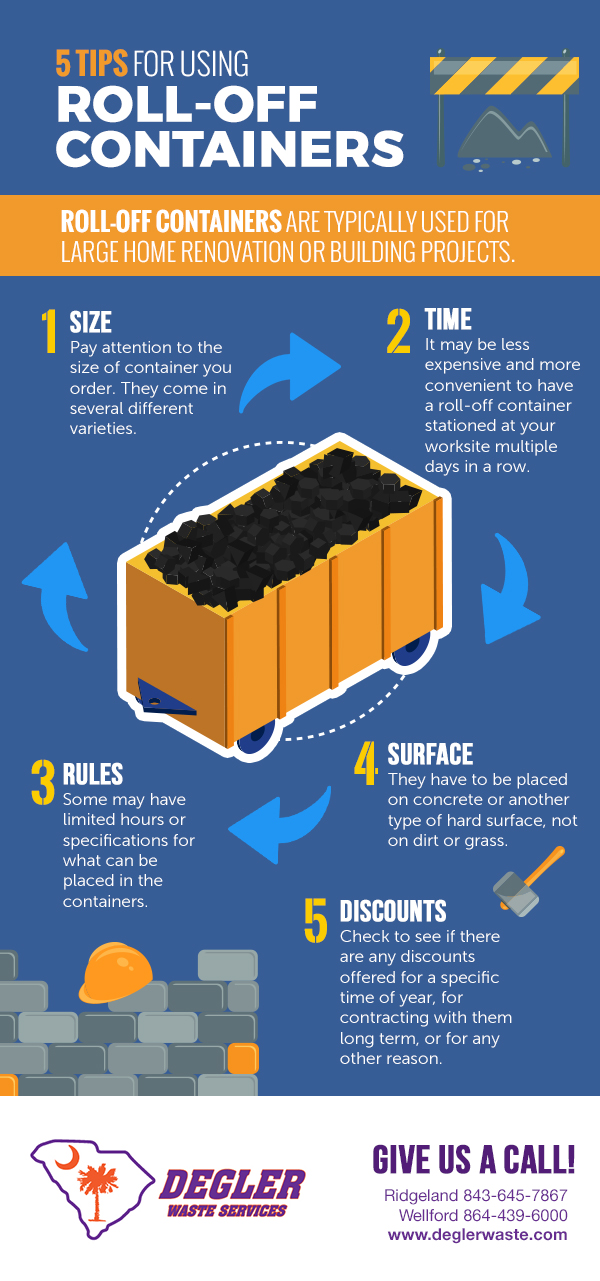 If you're considering using roll-off containers, here are 5 tips for getting started.
Pay attention to the size of container you order. They come in several different varieties, so make sure you choose the one that is the best fit for the particular job you are using it for.
Do the math. It may be less expensive and more convenient to have a roll-off container stationed at your worksite multiple days in a row, or it may be better to only have one for certain days of the week or at the end of a project.
It's important to know where to place these containers. They have to be placed on concrete or another type of hard surface, not on dirt or grass.
Know the rules of the company you're renting a container from. Some may have limited hours or specifications for what can be placed in the containers. It's important to learn those details before getting started.
Check to see if there are any discounts offered for a specific time of year, for contracting with them long term, or for any other reason. Since roll-off containers can be expensive, you could definitely save some money with even a small discount.
Roll-off containers are a great option for quick and simple cleanup from major construction projects. You will save a lot of time and money using this process for disposing of everything you don't need.