One important aspect of septic system maintenance in Ridgeland is regular grease trap pumping.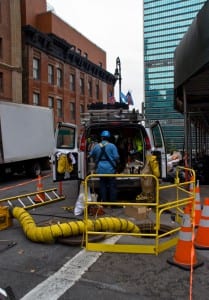 After you wash the dishes or rinse something greasy down the sink, your septic system might become overloaded with grease, leading to a backup. Grease traps sit between the pipes and the septic system and filter water that moves through the pipes to eliminate grease before it goes into the system. Some types of cooking oils and products can solidify when they become cold, which can lead to clogs in the pipes. Excessive amounts of liquid oils can also break down the anaerobic bacteria that help separate waste and water within the tank. As a result, a septic system that doesn't have a functioning grease trap can cause sewage and other contaminants to go back into the water system, which can be dangerous. Before this happens, you should schedule grease trap pumping to keep your system working properly.
One important aspect of septic system maintenance is regular grease trap pumping. This is especially crucial for restaurants and other commercial buildings that produce higher volumes of grease, since a clogged or overloaded grease trap won't be able to filter oils properly. Residential properties should also include grease trap pumping during routine maintenance, since it will help keep the septic system working without any issues.
If you need assistance with grease trap pumping or maintenance, contact us right away at Degler Waste Services. We have been in business since 1975 and will professionally clean and empty your grease traps so they work their best. We also provide many different septic system repairs for properties in Ridgeland, South Carolina. We are a great choice when it comes to any septic system concerns, so call us today!
---
At Degler Waste Services, we offer high-quality grease trap pumping services in Ridgeland, Wellford, Lyman, Spartanburg, Inman, Tryon, Landrum, Greer, Taylors, Greenville, Mauldin, Simpsonville, Travelers Rest, Pumpkintown, Lady's Island, Bluffton, Hilton Head Island, Hardeeville, Beaufort, Port Royal, Laurel Bay, and Walterboro, South Carolina, as well as Savannah, Georgetown, Wilmington Island, and Garden City, Georgia.