We have all the tools needed to perform grease trap cleaning effectively and efficiently.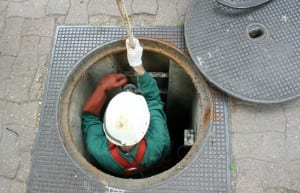 When a commercial facility relies on a septic system, that system often includes a grease trap. The grease trap is a functional component that prevents oil and grease from clogging up the pipes and other elements of the septic system. As liquid waste moves through the drains in a commercial facility, it may contain cooking oils and other greasy products that can solidify when they get cold. If this happens within the pipes, the solid grease can create a clog that prevents water and other waste from going through the system and moving into the septic tank.
One of the most important aspects of septic system ownership is keeping up with regular maintenance. If you're responsible for a system that contains a grease trap, one of the maintenance tasks you simply can't afford to ignore is grease trap cleaning. Our experienced team at Degler Waste Services can perform this service at your Beaufort, South Carolina restaurant, food service facility, or other commercial structure. We have all the tools needed to perform grease trap cleaning effectively and efficiently.
Since a commercial kitchen produces more grease than a residential kitchen or another type of facility, it's especially important to keep up with grease trap cleaning in this type of setting. Our technicians can get you on the schedule for regular grease trap cleaning, ensuring that liquid and solid waste can always move through the pipes and other components smoothly and properly. If you have any questions about this process or the other services we provide in the area, don't hesitate to contact us.
---
At Degler Waste Services, we offer high-quality grease trap cleaning services in Ridgeland, Wellford, Lyman, Spartanburg, Inman, Tryon, Landrum, Greer, Taylors, Greenville, Mauldin, Simpsonville, Travelers Rest, Pumpkintown, Lady's Island, Bluffton, Hilton Head Island, Hardeeville, Beaufort, Port Royal, Laurel Bay, and Walterboro, South Carolina, as well as Savannah, Georgetown, Wilmington Island, and Garden City, Georgia.