Our goal is to make your project as easy as possible by providing construction debris containers for your convenience in Savannah.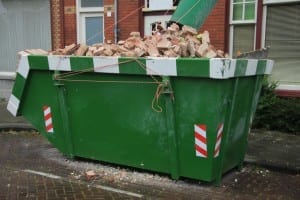 When you have a big construction project, the last thing you want to worry about is where all the trash is going to go. It is so much easier when you can simply toss the things you need to throw away into a container and move on to the finished product. Unfortunately, this option may not always be as easy as it sounds when you either can't find the right size construction debris container or the one you need isn't available on your time schedule.
At Degler Waste Services, our goal is to make your project as easy as possible by providing construction debris containers for your convenience and ease of use. We do several things to ensure that your construction debris containers arrive at the time you need them, at an affordable price, and with as few hassles as possible. We take pride in offering unique solutions for our customers, including:
Same-Day Delivery – We make delivery easy when you require construction debris containers. Just let us know what size you need – 20 or 30 yards – and how long you need it. We'll bring it to your site and pick it back up when you're through. Knowing that you can easily coordinate your construction project with us is just one of the ways we ensure you have exactly what you need while you complete your work.
Competitive Rates – If you are working on a construction project, that means you are probably on a budget. Luckily, our competitive rates make our construction debris containers very affordable, and they work great for any project. We know that not everybody charges the same prices, but we like to think that we can beat out the competition when it comes to quality of service and our pricing.
Stress-Free – We are known for our reliable, professional and customer-oriented service, and that means your rental with us will be stress-free. When your project is through, you can sit back, relax, and enjoy the results of your work. Not sure how to get started, or need help selecting the right container? We will be glad to help you get your project under way.
No matter what industry you are in, there is something to be said for having a great company that understands what you need when it comes to getting rid of waste during a construction project. We work with customers in roofing, home building, restoration, commercial construction, and more. The most important thing to us is that you have the waste solutions you need for any project. Once you've seen how easy we make getting the construction debris containers you need, you won't need to turn to another company for this service.
At Degler Waste Services, we've been serving our customers in Savannah, Georgia since 1975. We are a family-owned and operated business that is dedicated to providing you with the comprehensive services you need. When you need construction debris containers for your worksite or special event, just give us a call, and we'll be there to deliver.
---
At Degler Waste Services, we offer construction debris containers for rent in Ridgeland, Wellford, Lyman, Spartanburg, Inman, Tryon, Landrum, Greer, Taylors, Greenville, Mauldin, Simpsonville, Travelers Rest, Pumpkintown, Lady's Island, Bluffton, Hilton Head Island, Hardeeville, Beaufort, Port Royal, Laurel Bay, and Walterboro, South Carolina, as well as Savannah, Georgetown, Wilmington Island, and Garden City, Georgia.